Returning your stuff
Canceling
Orders that have not been paid yet, you do not need to cancel. If your order is already paid for and you want to cancel it? Please contact as soon as possible. The cancellation of an order as long as it has not been sent, is free of charge.
Are you too late to cancel and we already shipped your order? Then you can refuse the package upon delivery. If you've already paid for your order, we will full refund, after reception of the return, full refund. You can also use it for a new order amount. I can create a credit note for you in that case.
The shipping costs can also get back to me (only if you refuse the order unopened at the door and let it take back by the deliverer).
Disclosure
After you receive the goods, you have 14 days to redeem your purchase and return your products. (provided that, of course, they meet the return terms).
Broken
I always do my utmost best to ensure the quality of all products and package them well when i send it. If you by any way received broken or damaged goods, i will use a "money back" guarantee. You will receive the full purchase price including shipping costs. Take direct contact and send it back.
If you are not satisfied with any of our products, you can return it to me without reason. That is up to 60 days after receipt of your order.
NOTE: Please always contact me if you want to send something return!
CONDITIONS OF RETURN
- All products must be unused, complete, clean and undamaged in order to qualify for a return - i prefer to receive the product that you want to return as much as possible in the original, undamaged packaging - Make sure you have good packingmaterial for fragile products, i can not be held responsible for the return shipping and the state in which i receive the goods
- Affix sufficient postage stamps when returning . Unstamped pieces, can not be taken back.
COSTS RETURNS If you use the cooldown than you pay for the costs you incurred to send the package back to me.
With a return of defective or damaged products jdsbeardoil pay these returning shipping costs.
Hopefully you will clearly informed.
If you have any additional questions, always contact me.
Costs for returning a shippment
If you use the cooling-off period, you will pay the costs you have taken to return the parcel to me. When returning damaged or damaged products, jdsbeardoil pays these costs. Here is the link for a return and cancellation form!
The first 2 are dutch, 3th is english terms and the 4th is usa terms......Always use the 3th one if you are not from USA and can`t speak dutch haha!!
https://cdn.myonlinestore.eu/9466090a-6be1-11e9-a722-44a8421b9960/files/nl_nl_1_Retour_Formulier_Jdsbeardoil.pdf?t=1500473217
https://cdn.myonlinestore.eu/9466090a-6be1-11e9-a722-44a8421b9960/files/nl_nl_2_Herroepings_Formulier_Jdsbeardoil.pdf?t=1500473273
https://cdn.myonlinestore.eu/9466090a-6be1-11e9-a722-44a8421b9960/files/en_gb_3_Herroepings_Formulier_Jdsbeardoil_ENG.pdf?t=1514989211
https://cdn.myonlinestore.eu/9466090a-6be1-11e9-a722-44a8421b9960/files/en_gb_4_Herroepings_Formulier_Jdsbeardoil_USA.pdf?t=1514989364
Hopefully you are clearly informed, for aditional questions do not hesitate to contact me!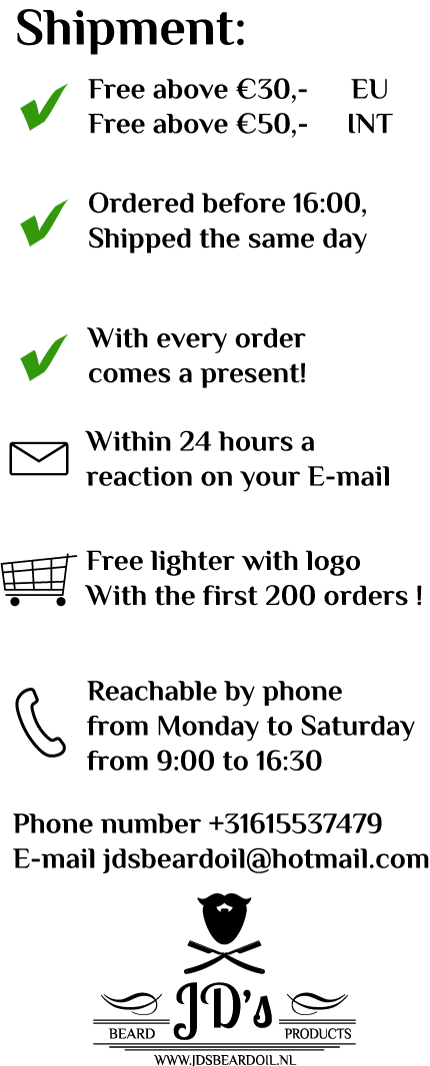 Shopping cart
No items in shopping cart.